A birthday party is a special event. It's the one day of the year where you get to celebrate your life and everything that has happened in it so far. It is a time to celebrate and an excellent opportunity for the birthday boy or girl to have some fun. It can also be a perfect way for parents of younger children to entertain their children while still young.
How To Plan A Child's Birthday Party
Planning a birthday party can be daunting. You want to make sure that everyone has fun, but you also want to ensure that your child and their friends have the best time ever. There are so many things to consider, and it's hard to know where to start. The more you plan, the smoother your day will go.
To make sure that your party is a roaring success, follow our tips for creating a great birthday bash.
As a parent, you want every birthday party of your child to be unique and special. It takes a lot of planning and preparation to make it happen, but the most challenging task is choosing an appropriate theme for your child's birthday party.
There are many things you need to consider when selecting the suitable theme that would interest both children and their parents alike:
The age range of guests attending (you don't want them too young or too old)
Your budget constraints; how much money can be spent on decorations and food?
How much time do you have before the event date? Planning well ahead means being able to buy any themed supplies needed with little hassle. If you choose such items late, they may not even be available anymore.
You also might find yourself scrambling when your child changes their mind about the theme they want, or if you are not sure yourself what would be perfect for a little boy's birthday party.
Most importantly, make all of this work worth it by having fun with these tasks! The journey is essential too after all, isn't that why we celebrate birthdays in the first place?
Select The Best Venue For Your Birthday Party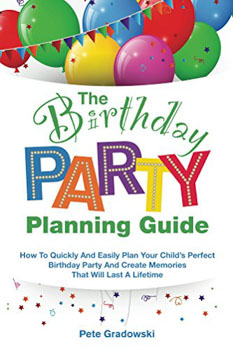 Most people think that doing a birthday party at home is good but it does have its drawbacks.
It is because of the limited space you may well have in your home, and it also doesn't give that much privacy to people who are coming over for the party, if they need time alone or not feeling comfortable with all those strangers around them.
If you want to have a good birthday party at home, then make sure that your house has more than one bedroom so guests can get some privacy if they need it and have a spare room for other things such as leaving coats or playing games in case children get bored quickly.
Make sure there is adequate lighting, especially near bathrooms and stairs, where accidents can happen quickly. Add some safety features like smoke detectors, fire extinguishers, first aid kits, including bandages, antiseptic wipes, etc.
Electrical extension cords and protectors, and a fire escape plan.
Ensure that you have all the cleaning supplies needed like soap, disinfectant spray, paper towels or napkins, etc.; if someone spills something on the carpet, it needs to be cleaned up quickly. Nobody likes walking through carpets with stains.
It's also essential to make good food so take care of your guests by making them feel well taken care of in terms of what they eat. If you are not a great cook yourself then engage a professional to do that for you.
Things You Have To Do For The Birthday Party
Kids love parties. They may not remember the party, but they will never forget how much fun they had. We have gathered some important points to consider when planning a party for your kid:
Birthday Party Theme
Parents usually choose themes to focus the decorations, invitations, and games on a particular theme. The theme must engage the child and his or her friends. Find out what your child likes. Consider his or her interests. This could be a theme based on sports, dolls, dinosaurs, or superheroes.
Consider what your child will be excited about and plan a theme around that. Use cheerful color in theme. Use Google to find birthday party ideas.
Activities For Kids
Arrange games and activities that will make each child feel like they are at a birthday party. This could include cake decorating, ring toss, pinatas, banana split bar (free ice cream), face painting stations with lots of different colors – anything you think would appeal to kids. There should also be an area set aside where parents can sit down so that their children don't tire out too quickly.
Invitations & Guests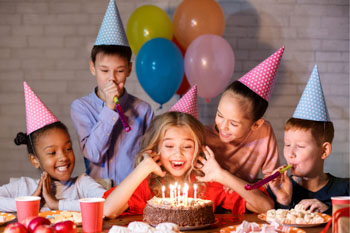 Send out invitations to all the children in your child's class. Include a short note about the party theme and offer an RSVP card or email address for parents to reply with their decision of whether they will come or not. Make cookies for guests.
The more people you invite, the more chaos there is likely to be, making sure that everyone who comes has something fun planned for them. It might take some careful consideration on your part, but it should be worth it.
Food
You can't have a birthday party without cake! Provide each guest with one slice of cake (this doesn't need to be elaborate) and stick candles at different heights around the table where guests are seated while singing "happy birthday." Be creative when presenting food options beyond just cake.
Drinks
If you're hosting a backyard party, provide great non-alcoholic drinks such as punch and lemonade. For an adults-only event, serve classic cocktails like margaritas or Moscow mules in addition to wine and beer.
Alcohol is never necessary for birthday parties—you should save it for someone's 21st! But if your guests are children who can't have alcohol, this will give them something fun to drink that they might enjoy more than just water.
And if the kids fall asleep before dinner time (or during), then you'll want some milk on hand too.
Decorations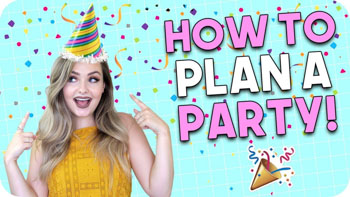 Birthday decorations don't need to be elaborate; birthday balloon do the trick nicely! Add streamers to create a festive atmosphere. Consider using colorful streamers to divide up the party space or wrapping gifts with them for an extra-special touch.
You don't need to break the bank; your primary focus should be making sure that you have enough supplies such as plates, cups, utensils, and napkins so guests can enjoy their food and drinks without having to wash dishes after every meal.
You might also want some candles around if there's no outdoor light – though you may wish to this list before kids arrive if they're likely to get scared seeing flames suddenly appear from nowhere.
Conclusion
The room should be kept free of all harmful objects. It would be best if you kept them out of the reach of children. Please don't freak out when it comes to planning your child's birthday party. If you follow the tips listed above, the process becomes smooth and hassle-free.
If you decide that you need professional help with anything at all then NearMe.Vip will help you find a 5 star service without any hassle or fuss.