You probably have a lot of questions right now when it comes to kitchen design. You might be asking about the best designs and how you can maximize the space that you have right now. We got the answers to all of your inquiries. Read on to learn more about designing your kitchen.
Kitchen Design Tips: How To Maximize Space

If you're looking for kitchen design tips, you came to the right place. Most people spend a lot of time and money designing their kitchen so we had a few simple strategies that you can do to make your kitchen more beautiful.
The secret to a good-looking kitchen is wide walkways. If you have an island in the kitchen, make sure that the walkways are wide enough to fit at least two people. For houses with a small kitchen, it's better to remove the island to make the space a bit wider.
You can also add a countertop if you will remove the island. This would give more space for your kitchen appliances without affecting the overall space. If it's possible, keep the other appliances out of sight so it won't look too crowded.
Are Quartz Countertops The Best?
Granite is a good choice, but there are a few reasons why people choose quartz countertops. When it comes to appearance, granite comes with various options, but looking for the right piece will be easier with quartz.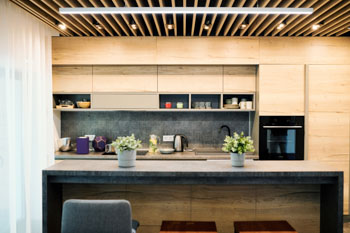 Quartz is also engineered so it is more environment-friendly. It is also widely available so you won't have to wait for the materials to be delivered to your doorstep. The best thing about this is the minimal maintenance that you're going to do. Although you still need to clean it with soap and water, you don't have to reseal your countertops. With its solid surface, you can clean the spills with ease.
Durability is also one of the reasons why quartz countertops are the best. It is more durable than granite.
What Are The Best Modern Kitchen Designs?
When it comes to kitchen designs, white is always one of the best choices. White kitchens are very popular because it's easier to unify the countertops, cabinets, lighting, and flooring to create a cohesive look.
The neutral style will also work for different designs. You can create a classic look with white color as the background or you can make a modern kitchen design as well.
One of the best styles would be a minimalist design. You don't need to show all of the kitchen appliances that you have in your kitchen. Make it look very simple and clean to create a unique impact.
You can also choose a more elegant design. You need to use wood for all the cabinets and make sure that you emphasize the grains.
Small Kitchen Design Tips
If you have a small kitchen and you want to make it look fabulous and elegant, there are a few things that you can consider.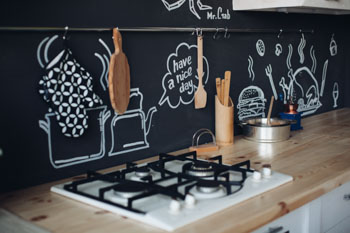 Start with the kitchen appliances that you can keep inside your cabinets. Be super organized and make sure that you keep them properly on the cabinets. If you're not using something regularly, then keep it inside the cabinets.
You should use light colors to make your kitchen look big. Doing this can visually make your kitchen bigger, especially if you use the white color.
If there are a lot of small things on top of the countertop, use baskets to keep them. There are small baskets where you can place some of the small utensils in your kitchen. Don't hang them as it would make it look crowded.
Do Kitchen Base Units Need To Be Fixed To The Wall?
Cabinets should always be fixed to the wall. If the cabinets would be placed under the countertop, they have to be fixed on the floor, while the hanging cabinets should be fixed on the wall. However, not all base units have to be fixed.
Basically, when you renovated your kitchen, you already have an idea of where a specific unit will be placed. But, if you only transferred to a new house and you need to put your things in the kitchen, you need to check the spaces available.
You can measure the base units and the spaces available in the kitchen. This would allow you to determine what item would go in what area. They don't have to be fixed to the wall since it will be very difficult to remove if you have to move houses again.
Do Kitchen Doors Come Pre Drilled?
Kitchen doors won't come pre-drilled for the handles. There are different types of handles that you can use for the doors. You will still need to do some drilling once you've figured out the handle that you're going to use.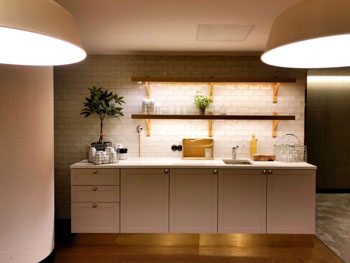 This is not too difficult since the doors are already fully prepared for installation. You just need to attach the handle that you've chosen and you're good to go. You can hire a professional to do it for you or you can watch a few tutorials online to help you understand how it's done.
However, take note that the doors can get damaged if you don't know what you're doing. The best suggestion would be to let a professional handle the doors for you as they know exactly how to install them.
Do Kitchen Fitters Remove Old Kitchen?
Yes, kitchen fitters will have to remove the old kitchen since they will have to replace all of the old appliances and flooring. They need to completely renovate the kitchen so everything will be removed depending on your preference.
Once the old kitchen is removed, the next step is known as the First Fix. In this process, the plumbing and electrical work will be handled as well depending on your choice. If you want to move the sink or you want the standard outlets to be transferred, it would take a couple of days to do this.
When the plumbing and electrical work is done, the next step is to fit all the new appliances that would be added to the kitchen. While doing the other processes, the kitchen fitters already noted the places where the fittings would go.
How To Find A Good Kitchen Designer?
Design and ability should be the first two qualities that you need to look for in a kitchen designer. They need to be flexible enough to make your dream kitchen a reality. Basically, they also need to tell you if what you want is possible or not.
Product knowledge is a must and they should know the best brands that would fit perfectly on the type of kitchen that you want.
Although it's not a bad idea to hire new kitchen designers, experienced professionals provide more value for you. They've already dealt with different kitchen renovations in the past so they already know some of the best designs that you can use for your kitchen. Make sure that they are licensed to operate in your area.
Conclusion
Designing your kitchen takes a lot of work and brain cells. If you don't have a kitchen designer, you will surely have a hard time picking the right design. It's best to invest in a kitchen designer as they can help make your dream kitchen a reality.
To find the best 5 star kitchen design team just type in "kitchen design near me" to our search box here on NearMe.Vip.