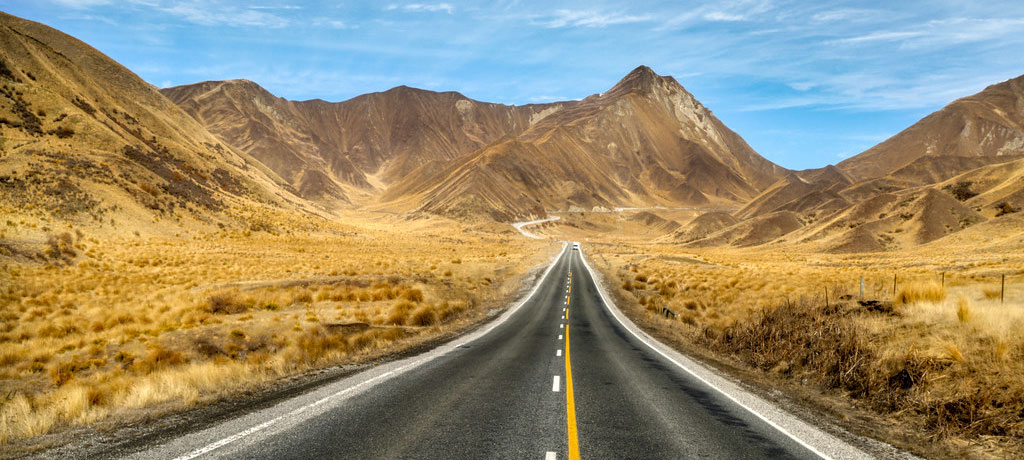 At last we can look forward to coming out from under the shadow of the Covid 19 epidemic and many people's thoughts will turn how to celebrate the regaining of freedom and for many that will mean planning a summer vacation.

Returning To Normal After Covid 19
There are not many of us optimistic enough to expect this to be a summer of normality, but it does seem that we can at least make some plans to get away either on our own or with the family.
The last 12 to 14 months have been a very difficult time for the hotel and entertainment industry who have been especially hard-hit by the Covid 19 restrictions. So as people can start to look to the future with a little more hope, we will take a look at how the top hotel chains in the USA have survived and what kind of bargains you could expect to pick up this summer.
Hotel Ratings Matter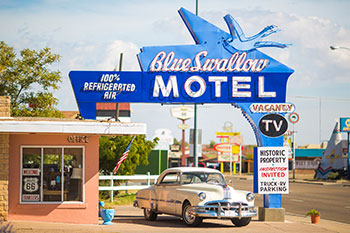 People love scores and satisfaction surveys, especially when it comes to items that are going to potentially cost them a significant amount of dollars. People look for some type of shortcut, even when selecting between budget lodge chains and motel brands, and when each one seems very similar in what they provide.
We have all stayed at some terrible, filthy place in a big city that was a "name brand", but independently owned and poorly run. These are the kinds of locations where you see the host trying to repair things around the guests on Hotel Impossible. Readers rate accommodation on their location, rooms/amenities, meals, service, and general value for money.
Trying to find cheap hotels that offer a pool, decent nightly rates but also with acceptable accommodation and facilities is a serious challenge.
Looking Online for Cheap Motels & Budget Hotels
Online travel websites have information relating to hotels and motels across the country, which can be used for locating room availability and monitoring costs of resorts.
When you and your pet need a suite for the night, searching online on hotel booking sites will often get you a great nightly price in what may well be an average hotel, but one that should offer decent sleeping arrangements.
Budget Hotel Chains & Covid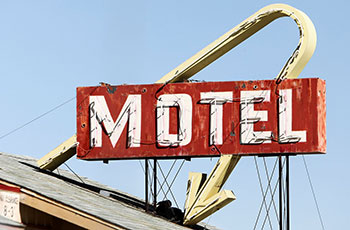 We don't know yet what the situation will be once travel is openly allowed again but if you are still concerned about protection against Covid, and ensuring well-being and correct social distancing are major issues, selecting a budget motel chain for your country road trip that has enforced mask policies like Best Western, Hyatt, Hilton, IHG or Marriott, would be a wise choice.
If, on the other hand, sustaining flexibility amid coronavirus uncertainty is paramount, take a look at the brands like Radisson, Hilton, Marriott and Hyatt, which rated the best right here. We believe everyone should have the ability to make accommodation selections with confidence. The hotel industry has been severely affected by the COVID-19 pandemic and its ensuing travel and dining restrictions, and other social-distancing rules.
In the mid-range category, the worst scores went to Baymont Inn by Wyndham, Sandman Hotels, Quality Inn, and two more Wyndham price range brands. It ought to be noted though that the typical rating in this Midscale class is above all but the #1 entry in the Economy class. Another $10 or $20 per evening on your accommodation costs can make a giant distinction within the motel world.
Travel Style And Travel Budget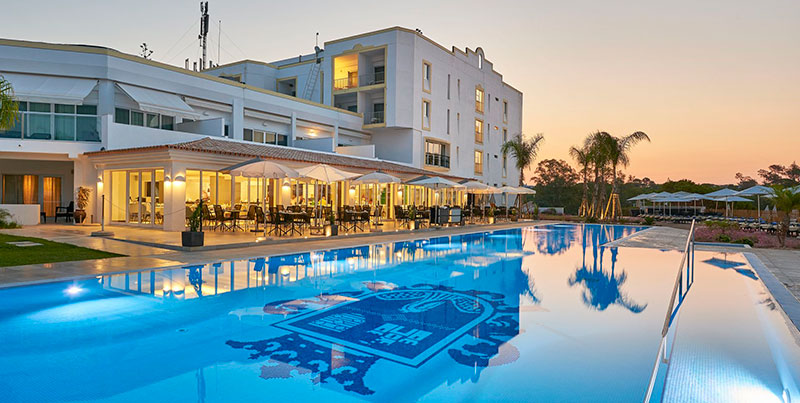 IHG, Intercontinental Hotel Group the British-headquartered firm, is the mastermind behind a few of the most worthwhile hotel brands on the planet, together with Holiday Inn, Candlewood Suites, and Crowne Plaza. IHG also has numerous luxurious brands such as InterContinental Hotels & Resorts.
There are thirteen hotels under the Hilton Hotels brand Hampton (45.5%), Hilton Garden Inn (13.6%), and Homewood Suites (9.4%) have essentially the largest variety of hotels. Hampton by Hilton is one of the main higher midscale resort brands and it accounts for 43.5% of Hilton locations.
As a lodge chain, Marriott prides itself on hospitality and luxury, values that speak to a particular demographic. The brand additionally cares about social points, diversity, community improvement, and sustainability.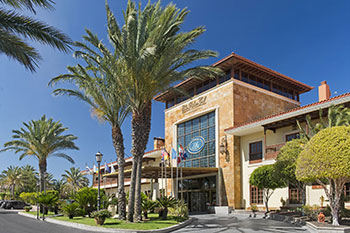 Pet friendly Studio 6 business resorts offer the inexpensive comfort of furnished studios, low weekly charges and accommodating resort amenities.
Be aware of any potential additional cost such as parking costs, as they can soon turn reasonable prices in the cheapest hotels into pricey stays comparable to more up market hotels that may have offered a better overall experience.
Bonus Points For Loyalty
In current years IHG has won a variety of accolades, in particular for its rewards program which has been covered by US News and World Report, IdeaWorks and USA TODAY. Most individuals get somewhat of a thrill out of getting something free of charge. If you offer loyalty to a selected hotel chain, you can earn points that can get you a free lodge room and/or additional perks.
You can actually upgrade your trip when you take into account credit card bonuses and air miles for future traveling, particularly through your choice of bank cards used to pay. Compare the most recent sign-up bonus offers to begin earning free flights, hotel stays and more.
Shop Around
Online booking websites have made it simpler for travelers to lookup room tariffs from a number of resorts before deciding on a cheap motel chain that will match their needs. Gathering data from sites such as Booking.com may help resort chains to dynamically change costs relying on traveler curiosity and lower the average cost of both short term and extended stay hotels.
Pets Can Bring Problems
If you are traveling with pets then you have a whole different set of challenges to overcome. Pet friendly W Hotel are a good option. Renaissance® Hotels & Resorts present distinctive decors, imaginative eating, and attentive service in fantastic destinations around the globe. The perfect place to stage your upcoming sales conventions or informal get-togethers with associates, Crowne Plaza® has greater than 35 pet friendly places.
Business Chief is a 'Digital Community' that connects the world's largest brands and their most senior executives with the most recent developments pivoting in direction of technology and digital transformation.
Big Chains Have Plenty To Offer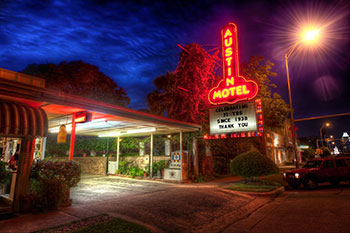 A lot of smaller lodge teams have merged or have been acquired by the bigger hospitality companies. OYO is an Indian lodge startup which has turn out to be one of the quickest-rising chains of hotels globally. Its latest buy was France of Louvre Hotels Group.
Since going public within the 1960s, US based Hyatt Hotels Group has grown to 750 properties in 54 countries. In whole, the group has about 45,000 staff and total assets amounting to $3.52bn, as of 2017.
After their first enterprise into the resort world, another alternative arose in 1969 when Rudolf August Oetker fell in love with the Hotel du Cap-Eden-Roc and decided to buy it. The brand already operates motels in Brooklyn, Manhattan, Miami and Los Angeles, with new locations planned for Nashville, San Francisco, Sunnyvale and Toronto.
The Auberge Resorts Collection of resorts consists of luxurious boutique gems throughout the world, including gems in the U.S. just like the Auberge du Soliel and Calistoga Ranch in Napa Valley and Hotel Jerome in Aspen. No matter the property, friends at Auberge resorts can anticipate a genuine sense of place, menus featuring recent and domestically sourced elements, indulgent spas and specifically crafted experiences.
Hampton by Hilton prides itself on its warm welcome and ambiance. Customer satisfaction comes before all else. From superlative chefs to blissful pampering, JW Marriott strives for luxury in every part of a guest's keep.
Don't Forget To Gas Up
No road trip would be complete without considering the cost of gas. Your gas costs will be affected largely by the gas mileage of your chosen vehicle, the route and overall mileage covered.
Final Thoughts
Don't forget to ensure that you have adequate travel insurance, you have plenty of options here.
But most of all, enjoy your regained freedom and make it a road trip of a lifetime.